Check out Beyonce's cabled newsboy cap.
Simple enough cable but I've not seen a pattern for one of those flat caps on ravelry yet. I'd like to make one next year. More photos here: jj Rihanna snapped in a blue beret with beau Chris Brown.
Easy slouch beret that could be copied with a velvetish novelty yarn. More photos here: justjared The ever classy Rummer Willis
I strongly dislike this girl. I wonder how long before she has a chin job? More photos here:justjared Kate Walsh loves the big squish.
I wonder how heavy the piece is? She's wearing those glasses again. Gag. Next up are Katherine Heigl, Jessica Biel and Fergi in gray belted cardigans.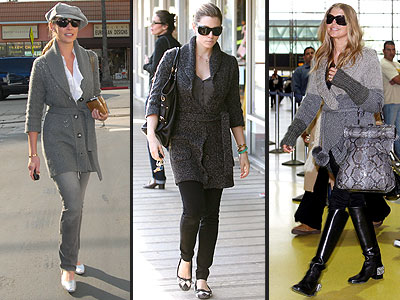 Katherine needs to lose the hat, but I like her sweater a lot. I love the 3/4 length sleeves and the buttons! Cute flats too, I want a silver pair right.....NOW.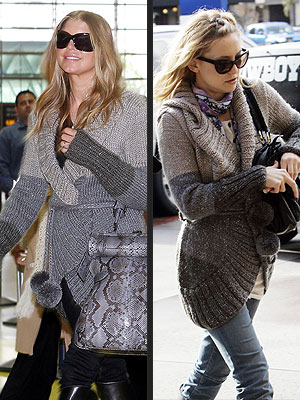 Kate Hudson (whom I adore) and Fergie are both wearing the
Candela NYC Short Pom Pom Sweater
It's on sale people! Snatch it up if you like it. It was $264 now it's $79 It's 20% wool, 20% mohair, 60% acrylic manufactured in Argentina. The desiger also made a scarf in the same style. I like it. $40 down from $132 same wool mix.
and I'll show you my latest covet- The Cross Check Coat.
It's perfect. Casual, but the details make it a great piece. Good on a rainy day. I love the cropped sleeve and omg the strap detail?! Loves. I found a photo of Ashley Tisdale in a grey cardi. Not a fan of her but the outfit is nice.
Miles of mindless stockinette. The fit appears to have 3 tiers and the sitches must have been increased to create the slight ruffle.
Avril in a plain stockinette slouch. It's a great hat actually, I just think the outfit she paired it with is all kinds of fug! In the ten odd years she's been around I've yet to see her sans skulls. The yarn however reminds me of the rowan cocoon I used a few months back for the parishil hat.